About Jeannette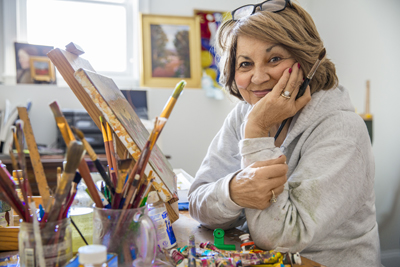 Jeannette Corbett is an award-winning artist whose work can be found in corporate, public and private collections throughout New England. She is a life-long resident of Massachusetts, and served as President of Reading Art Association.

Before devoting herself full-time to art, Jeannette enjoyed a 25-year teaching career. She was known by colleagues for her ability to incorporate art into any curriculum, and for inspiring her students to recognize their own creative gifts. Jeannette earned a Masters' Degree in Special Education from Regis College.

Jeannette's landscape paintings are particularly influenced by her travels throughout France and Italy—wildflower fields, expansive skies, and medieval villages, have all become central images. The movement and action of both thoroughbred horses and Argentine tango dancers are also significant themes in her work.

Jeannette has received art instruction from North Shore notables Tom Sutherland, Monique Sakellarios of Nashua, NH, and Teri Eramo, tonalist instructor from Byfield, MA. In the past 10 years, she has received over 150 awards, including twelve Best in Show.